Wednesday, February 20, 2008
Beautiful new building for the Church of
Scientology of Boston
!
Posted at 05:08 pm by MikeB



Friday, November 02, 2007
Scientology Recognized in Spain
Great News for Spanish Scientologists!
Today, the National Court in Madrid issued a landmark decision affirming the right to religious freedom in Spain by recognizing that the National Church of Scientology of Spain should be entered in the Registry of Religious Entities. >>
Posted at 05:02 pm by MikeB



Saturday, July 14, 2007
Posted at 04:57 pm by MikeB



Tuesday, March 20, 2007
L. Ron Hubbard's Birthday
In a tradition that dates back to the 1970's, Scientologists in churches and missions around the world commemorate the March 13
th
birthday of Scientology founder
L. Ron Hubbard in the way he himself asked it to be celebrated—by greatly expanding their service to the communities in which they live.

L. Ron Hubbard once wrote, "A being is only as valuable as he can serve others," and taking this to heart, Scientologists contribute many hundreds of thousands of hours each year as Volunteer Ministers, manning tents in and around their home towns or traveling to distant lands to participate in Goodwill Tours or providing emergency relief in times of disaster. Many thousands more provide drug education and prevention to the youth of their cities, promote the Universal Declaration of Human Rights, protect the rights of their fellows by cleaning up the field of mental health and reverse plummeting moral standards in society by distributing copies of The Way to Happiness, a common sense moral code written by L. Ron Hubbard.
Posted at 04:53 pm by MikeB



Saturday, January 13, 2007
BERLIN, 13 January 2007 — The
Church of Scientology of Berlin
opened its new home today in Charlottenburg to
over 5000 church members
(including Academy Award nominated actress Anne Archer and Jazz legend Chick Corea), government officials and community leaders, with an invitation to all Berliners to find out for themselves the answer to the inevitable question, "What is Scientology?"
>>
Posted at 04:48 pm by MikeB



Thursday, November 02, 2006
The Church of Scientology of Boston must have a really active community of Scientologsts.
Not only do they have a Scientology Volunteer MInistery that provides tutoring and other programs to the community, but they also have a really active anti-drug program.
Here's a press release about their actions, that I found today in Google news.
Anti-Drug Campaign Focuses on Education, Unites Scientologists and Non-Scientologists in Anti-Drug Effort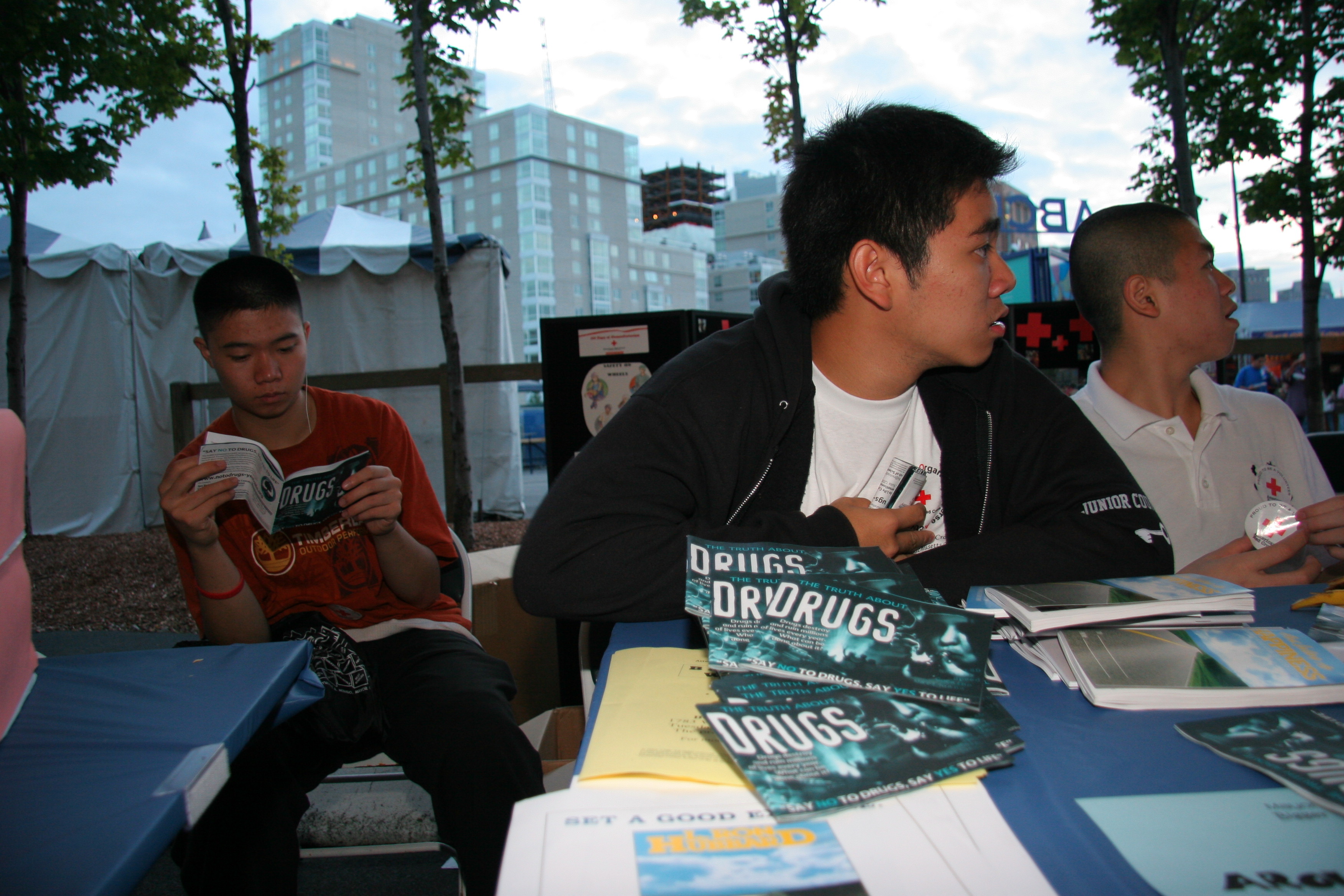 BOSTON (PRWeb) November 2, 2006 -- The Church of Scientology has reached out to the community with a community drug education and prevention program aimed at educating youth about the dangers of drugs and challenging youth to remain drug-free.

At the core of the program are booklets that detail the harmful effects of drugs including cocaine, marijuana, crystal meth, heroin, crack cocaine, ecstacy, LSD, painkillers, and Ritalin, or "kiddie cocaine" as it is commonly called.

Each booklet contains information including common street names of each drug, the drug's short- and long-term effects, quotes from actual users about their experiences with the drug, statistics detailing the scope of the drug's abuse, as well as information about what the drug is and where it is found.

The booklets also dispel common myths, including those surrounding marijuana.

"Marijuana users would have you and your children believe that you are merely inhaling a benign herb," said Peggy Harrison, the local program coordinator. "But in reality, this allegedly safe drug contains over 400 known toxins and cancer-causing chemicals, disrupts nerve cells in the brain harming one's memory, and damages the immune system."

The drug education and prevention program has motivated non-Scientologists like 50-year-old Drew Roberts of Roxbury to assist in the anti-drug effort.

Roberts, a former drug addict who "graduated" to using heroin at age 13 and later did several stints in prison because of drug-related crimes, has volunteered his time on multiple occasions to help church officials distribute booklets to the community, handing out 1500 booklets in a single day.

"I've realized our youth need the help, they need the information, they need the example," Roberts said in an interview held across the street from Top Notch Barber Shop, the site of a double shooting last month.

Roberts said he doesn't know much about Scientology, but is less concerned with the source of the information, and more concerned with its validity.

"It's information, period," Roberts said. "It doesn't matter who it comes from or where it comes from as long as it's positive, truthful information."

The booklets are free and come with an activities manual anyone can use to start a "Say No to Drugs, Say Yes to Life" drug education and prevention activity in their area, along with a DVD that has the booklets in downloadable format (PDF) for printing and viewing.

The booklets are available at the Boston Church of Scientology at 448 Beacon Street in Boston, online at www.notodrugs-yestolife.org and at the church's Volunteer Ministry at 1783 Washington Street in Roxbury.

According to Ministry Director Robert Castagna, the anti-drug effort directly aligns with the Ministry's purpose of reducing crime and violence by handling the underlying factors which lead to crime, namely drugs, literacy and moral values.

Ms. Harrison challenges community organizations, government agencies, schools and concerned citizens to help stop the drug-related violence and the harmful effects of drugs on our children and society. Contact a local "Say No to Drugs, Say Yes to Life" Coordinator to receive a copy of The Truth about Drugs Activities Manual or visit www.notodrugs-yestolife.org and print the booklets and get started.

"A lot of good-willed citizens and government officials are struggling with the good fight against drugs, and the violence that accompanies the drug culture," said Harrison. "What's really needed is truthful, easy-to-understand data to give children the knowledge they need to make an informed decisions."

As Roberts said, "All these kids want to do the right thing, they just don't know how."

Contacts:
Rev. Gerard Renna
Church of Scientology Boston
617-266-3841
Posted at 11:23 am by MikeB



Wednesday, November 01, 2006
Navy Chaplain on the Scientology Religion
The keynote of the
Scientology religion
is that it deals with the human spirit and its salvation and rehabilitation. It teaches that an individual is a spirit: not a body, not a brain, not a fortuitous random conglomeration of genes and chemicals. It is this single recognition of the nature of an individual that forms the foundation of the
Scientology religion
. Throughout the ages, man has traditionally viewed himself as a spiritual being. It has only been within the last century that the materialistic idea that man is merely another animal similar to a monkey or rat has taken hold.
Scientology
teaches that this idea is patently false, unworkable, and acts as a barrier to a personal understanding of life. An individual little suspects how much untapped potential he or she has to create his or her own life.
Posted at 10:09 pm by MikeB



Monday, October 23, 2006
David Miscavige at the Grand Opening of the Church of Scientology of London
LONDON – More than 3,000 members and friends of the Church of Scientology of London packed Queen Victoria Street in the heart of London for the sensational grand opening of the new home of the UK's oldest Scientology church.
Steps away from the Tate Gallery and St. Paul's Cathedral, the beautifully restored historic building at 146 Queen Victoria Street now serves the growing membership of London-area Scientologists. Its opening marks the largest expansion for Scientology in the Church's 50-year history in London.
Guest of honor, Mr. David Miscavige, Chairman of the Board of the Religious Technology Center and leader of the Scientology religion, stressed the historical importance of London. "This is the city L. Ron Hubbard himself [founder of the Scientology religion] selected as home to the first Scientology organization. This is also the city wherein he first defined the human spirit as an immortal being possessed of capabilities beyond anything predicted, and so arrived at the axiomatic truths on which the whole of Scientology is founded. Your early London organizations were also the original proving ground for the bulk of Mr. Hubbard's social betterment programs which are used to uplift neighborhoods just like this one."
The London Church on Tottenham Court Road, which served the community for the past 38 years, was also completely refurbished and re-opened on Sunday as a Scientology Life Improvement Center. It now features a full public information exhibition, including audio-visual presentations of the Church's work across society, and introductory film showings, live lectures and materials for anyone to learn more about Scientology for themselves.
To add to the import of the day was the announcement that the Church had acquired and renovated the very building where, in 1957, Mr. Hubbard established that first Scientology organization in the UK at 35-37 Fitzroy Street.
The Church of Scientology of London was welcomed to its new premises on Queen Victoria Street by Alderman Ian Luder, representing the Lord Mayor of the City. He spoke of the effective help the Church provides to get people off drugs and its successful programs to reduce crime.
Mr. Kevin Hurley, Divisional Commander of London's Snow Hill Police Station, called upon the Scientologists to "tenaciously focus on bettering this world," and said that he knows with "complete personal certainty" that the members are "raising the spiritual wealth of society" with their charitable works. He presented a special recognition for their valuable assistance and support following the city's tragic bombings of July 2005.
United Nations Peace Envoy, Dr. Iftikhar Ahmed Ayaz, spoke of his personal insight into the work done by Scientology around the world. "It is my personal belief," he said "this Church can restore what this world has lately lost – namely, much of the dignity and respect with which it was created."

The Church's new home is an 1866 Italian-styled Victorian landmark designed by architect Edward l'Anson for the British and Foreign Bible Society. Redevelopment in the mid-80s transformed it into a fully functioning modern office facility that served British Petroleum for two decades. The stunning period staircase and double-height entrance hall have been restored to create a welcoming and elegant atmosphere for parishioners and visitors.
Beyond the aesthetics of the building itself, David Miscavige spoke of the role of the programs that will roll out from within the London church's walls: "Our gift of literacy to disadvantaged children; restoring self-respect to those who've gone astray; easing suffering; eradicating racial prejudice; and, repairing the bonds that bind man together.
"This new church packs the full body of L Ron Hubbard's technologies as derived from the greater well of Scientology knowledge," said Mr. Miscavige, "and, as such, it provides the full gamut of Scientology activities for the betterment of mankind."
Posted at 12:01 am by MikeB



Tuesday, October 17, 2006
The IAS Event at Saint Hill
An arial shot of Saint Hill with last year's tent, set up for the IAS event. I hear this year it is even bigger and grander!
Posted at 11:19 am by MikeB



Monday, October 16, 2006
Church of Scientology of London
Just a few days to the grand opening of the new
Church of Scientology of London
!
It takes place right after this year's IAS (International Association of Scientologists) anniversary event, which is happening this coming weekend at Saint Hill in the UK.
Posted at 11:44 am by MikeB